When it comes to lawn care, you want your yard to look its best.  In order to keep the grass neat and trimmed, you have two choices, use a push mower or use a lawn tractor.  While both can get the job done, here are five reasons why you should invest in a lawn tractor to mow your lawn.
A Lawn Tractor is Easier to Handle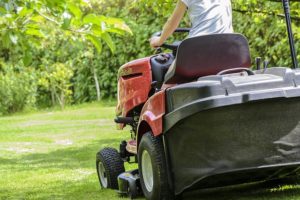 Have you ever tried to maneuver a push mower around trees, flower beds or tight corners?  It can be quite difficult without hitting the tree trunk or accidentally running over a few of your beautiful flowers.  Lawn tractors are steered with a wheel, allowing you a greater turning radius, giving you better mobility around obstacles.
You Have a Big Yard
If you have a particularly large piece of property, using a push mower just isn't practical.  You have to stop several times to refuel a gas tank and you end up sweaty and exhausted.  Or, if you have thick grass in your yard, a push mower can get easily clogged, leading to faulty equipment and a lot of frustration.  A lawn tractor gives you the ability to handle a big yard with ease, and can cut through thick grass much more efficiently.
A Lawn Tractor Saves Time
No matter if your yard is big or small, a lawn tractor can save you a lot of time.  Lawn tractors are faster than you are on foot and have larger fuel capacities, meaning that you don't have to stop as frequently, if at all, to fill the tank while mowing.
Good for Those with Health Issues
Certain health conditions may keep you from using a push mower.  You may not be able to pull the starter cord, walk around for long periods of time or push a heavy piece of equipment, even if it is a self-propelled push mower.  If you still want to get outside and mow your lawn yourself, a lawn tractor gives you a comfortable place to sit and operate the machine and start up is as easy as turning a key.
Lawn Tractors Have Other Uses
Unlike push mowers, lawn tractors have a variety of attachments that you can purchase in order to use your tractor for other yard maintenance.  There are seed and fertilizer spreaders, augers and plows for snow, making your lawn tractor a valuable tool all year long.
Lawn tractors have a multitude of benefits.  If you are looking for equipment to improve your lawn care, consider a lawn tractor.  You are sure to find it your most helpful tool.